Mark S. Wrighton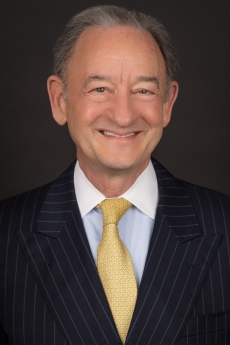 Mark S. Wrighton
President and Professor of Chemistry
---
Contact:
Office of the President, 1918 F Street NW
Washington DC 20052
Areas of Expertise
Inorganic photochemistry, catalysis, photoelectrochemistry, surface chemistry, molecular electronics
---
Education
Florida State University, Tallahassee, Florida, B.S. in Chemistry with Honors, 1969 Undergraduate research thesis directed by Professor Jack Saltiel: Mechanisms of Photosensitized Isomerization and the Nature of Energy Transfer from Photoexcited Molecules Member of Phi Beta Kappa, Phi Eta Sigma, Phi Kappa Phi
California Institute of Technology, Pasadena, California, Ph.D. in Chemistry, 1972 Graduate research under the direction of Professors George S. Hammond and Harry B. Gray: Photoprocesses in Metal Containing Molecules Member of Sigma Xi
---
Publications
More than 300 research articles, one co-authored book, two edited symposium volumes, 16 patents, and consulting editor for four editions of a major freshman chemistry text.
---
Bio
Mark S. Wrighton, Ph.D., was elected President of The George Washington University January 1, 2022. He is concurrently on sabbatical from Washington University in St. Louis where he is the James and Mary Wertsch Distinguished University Professor and Chancellor Emeritus. Wrighton served as the 14th Chancellor of the University from July 1, 1995, through May 31, 2019. During his tenure as Chancellor, Washington University made unprecedented progress in campus improvements, resource development, curriculum, international reputation, and especially in undergraduate applications and student quality. Wrighton served as a presidential appointee to the National Science Board (2000-06), which is the science policy advisor to the President and Congress and is the primary advisory board of the National Science Foundation. He is a past chair of the Business- Higher Education Forum and the Association of American Universities. Wrighton has received many awards for his research and scholarly writing, including the distinguished MacArthur Prize. He is the author of over 300 articles in professional and scholarly journals, is the holder of 16 patents, and co-author of a book, Organometallic Photochemistry. His research interests are in the areas of transition metal catalysis, photochemistry, surface chemistry, molecular electronics, and in photoprocesses at electrodes. He is a fellow of the American Academy of Arts and Sciences, the American Association for the Advancement of Science, and a member of the American Philosophical Society. Active in public and professional affairs, he has served on numerous governmental panels and has been a consultant to industry. He is an active member of numerous professional organizations and serves as a director on the boards of national companies and St. Louis organizations. From 1990 until 1995, he served as provost and chief academic officer at the Massachusetts Institute of Technology. A member of the MIT faculty from 1972 until 1995, Wrighton became a full professor of chemistry in 1977. He was named Frederick G. Keyes Professor of Chemistry in 1981 and became head of the Chemistry Department in 1987. In 1989 he was named the first holder of the Ciba-Geigy Professorship. Wrighton received his B.S. degree with honors in chemistry from Florida State University in 1969 and his Ph.D. in chemistry from the California Institute of Technology in 1972.
---
Distinctions
Honorary Professor, Xidian University, Xi'an China, 2019
Honorary Doctor of Philosophy Degree from The Interdisciplinary Center Herzliya, 2019
Honorary Doctor Degree of Natural Science, Chinese Minister of Education and Fudan University, 2010
Right Arm of St. Louis Award, Regional Chamber and Growth Association, 2010
Honorary Doctorate of Humane Letters, Harris-Stowe State University, 2009 St. Louis Citizen of the Year, St. Louis Post Dispatch, 2007
Honorary Doctorate of Humane Letters, Florida State University, 2007
Honorary Professor, Shandong University, Jinan, China
2002 Elected a Member of the American Philosophical Society, 2001
Honorary Member, Association of Alumni and Alumnae of MIT, 1995
Distinguished Alumni Award, California Institute of Technology, 1992
American Chemical Society Award in Inorganic Chemistry, 1988
Elected a Fellow of the American Academy of Arts and Sciences, 1988
School of Science Teaching Prize, MIT, 1987
Elected a Fellow of the American Association for the Advancement of Science, 1986
Fresenius Award, Phi Lambda Upsilon, 1984
E.O. Lawrence Memorial Award, Department of Energy, 1983
New York Academy of Sciences Halpern Award in Photochemistry, 1983
Honorary Doctor of Science, University of West Florida, 1983
MacArthur Prize Fellow, 1983-1988
Alumni Award, "Grad Made Good," Florida State University, 1982
Chemistry Graduate Teaching Award, MIT, 1981
American Chemical Society Award in Pure Chemistry, 1981
Dreyfus Teacher-Scholar Grant Recipient, MIT, 1975-1980
Alfred P. Sloan Research Fellowship, MIT, 1974-1976
Herbert Newby McCoy Award, California Institute of Technology, 1972
Monsanto Chemistry Award, Florida State University, 1969