Cynthia S. Dowd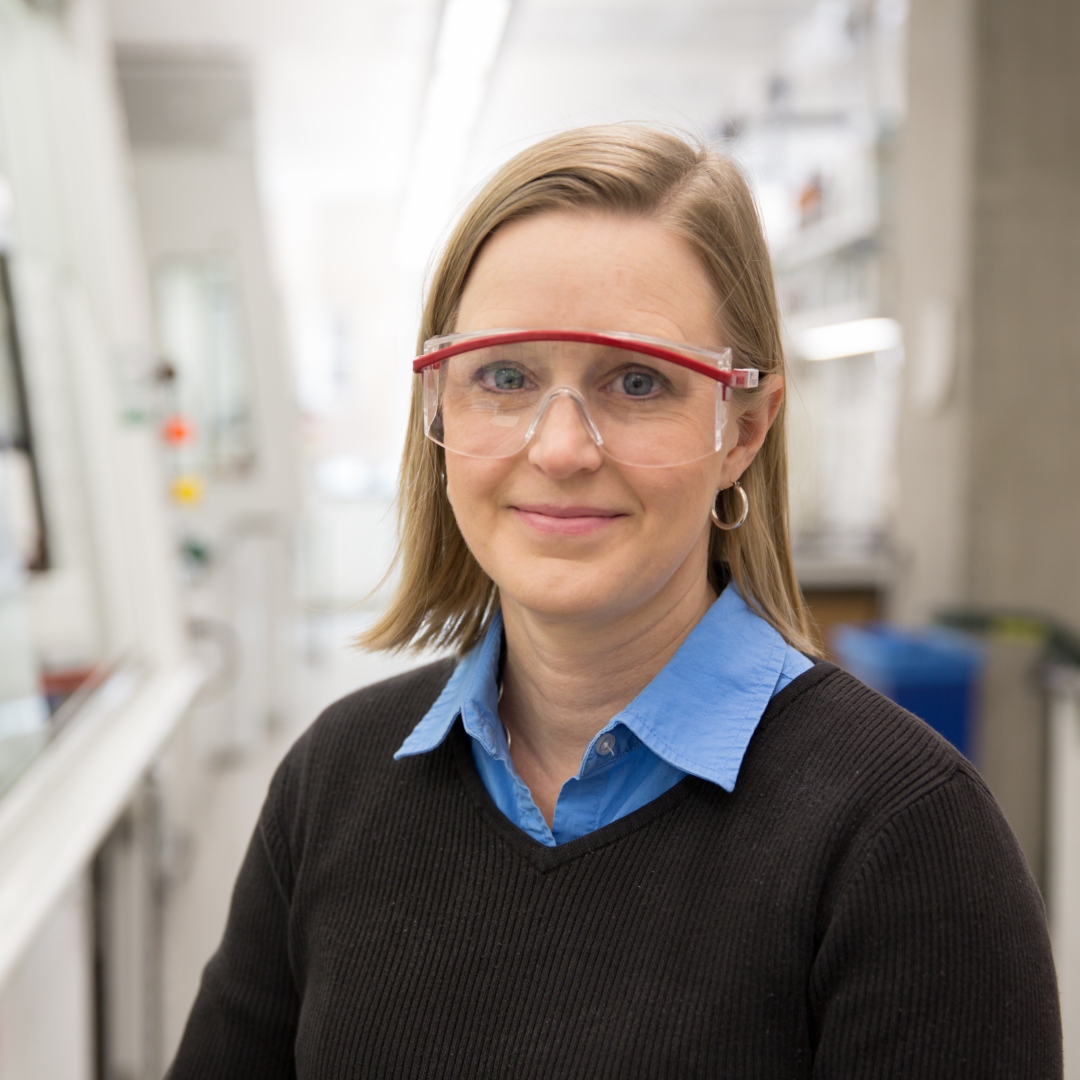 Cynthia S. Dowd
Professor of Chemistry and Chair of Graduate Admissions
---
Contact:
Office Phone:
(202) 994-8405
800 22nd St. NW
Washington DC 20052
The development of resistance to current antibiotic therapies and the use of microorganisms in biological warfare have shown the weaknesses in our arsenal of antibiotic and antiviral drugs. Now, more than ever, the need for novel therapies exists. A major limitation in the development of novel anti-infectives is the identification of an appropriate biochemical target. Our research program focuses on the development of inhibitors for specific targets implicated in the survival of certain human pathogens. We are focused on Mycobacterium tuberculosis, causing TB, Plasmodium falciparum, the major organism causing malaria, and the ESKAPE pathogens. We focus on vulnerabilities in microorganism metabolism that might be targeted by small molecule therapeutic agents. Our work uses structure-guided ligand design, organic synthesis, and biological evaluation to examine these molecules and validate the biochemical target.
---
Organic Synthesis, Medicinal Chemistry, Antibiotic and Antiviral Drug Discovery, and Structure-Guided Ligand Design 
Cynthia Dowd is currently engaged in several interdisciplinary projects related to antibiotic drug discovery and structure-based design. She enjoys collaboration with scientists in a variety of fields from several institutions and backgrounds. Students in her lab gain hands-on experience in molecular modeling, design, synthesis, and biochemical evaluation. Knowledge of diverse tools and thinking prepares them well for a future in science. 
 2152 Organic Chemistry 2
 6251 Advanced Organic Chemistry
 6350 Medicinal Chemistry
Heidel, K.M.; Dowd, C.S.* Phosphonate prodrugs: an overview and recent advances, Future Medicinal Chemistry, 2019, 11(13), 1625-1643. PMID: 31469328
Wang, X.; Edwards, R.L.; Ball, Hl; Johnson, C.; Haymond, A.; Girma, M.; Manikkam, M.; Brothers, R.C.; McKay, K.T.; Arnett, S.D.; Osbourn, D.M.; Alvarez, S.; Boshoff, H.I.; Meyers, M.J.; Couch, R.D.; Odom John, A.R.; Dowd, C.S.* MEPicides: α,β-Unsaturated Fosmidomycin Analogs as DXR inhibitors against Malaria, J. Med. Chem., 2018, 61(19),8847–8858. PMID: 30192536
Wang, X.; Dowd, C.S.* The MEP pathway: Promising drug targets in the fight against tuberculosis, ACS Infectious Diseases, 2018, 4(3), 278-290. PMID: 29390176
Haymond, A.; Dowdy, T.; Johny, C.; Johnson, C.; Ball, H.; Dailey, A.; Schweibenz, B.; Villarroel, K.; Young, R.; Mantooth, C.J.; Patel, T.; Bases, J.; Dowd, C.S.; Couch, R.D. A High-Throughput Screening Campaign to Identify Inhibitors of DXP Reductoisomerase (IspC) and MEP Cytidylyltransferase (IspD), Anal. Biochem., 2018, 542, 63-75. PMID: 29180070
Wang, X.; Ahn, Y.M.; Lentscher, A.G.; Lister, J.S.; Brothers, R.C.; Kneen, M.M.; Boshoff, H.I.; Gerratana, B.; Dowd, C.S.* Design, synthesis, and evaluation of nicotinamide adenine dinucleotide (NAD+) synthetase inhibitors as potential antitubercular agents, Bioorg. Med. Chem. Lett. 2017, 27(18), 4426-4430. PMID: 28827112
Edwards, R.L.; Brothers, R.C.; Wang, X.; Maron, M.I.; Ziniel, P.D.; Tsang, P.S.; Kraft, T.E.; Hruz, T.W.; Williamson, K.C.; Dowd, C.S.; Odom John, A.R. MEPicides: potent antimalarial prodrugs targeting isoprenoid biosynthesis, Sci Reports, 2017 Aug 21;7(1):8400. PMID: 28827774
San Jose; G.; Jackson, E.R.; Haymond, A.; Johny, C.; Edwards, R.; Wang, X.; Brothers, R.C.; Edelstein, E.; Odom, A.; Boshoff, H.I.; Couch, R.D.; Dowd, C.S.* Structure-Activity Relationships of the MEPicides: N-Acyl and O-linked Analogs of FR900098 as Inhibitors of Dxr from Mycobacterium tuberculosis and Yersinia pestis, ACS Infectious Diseases, 2016, 2(12), 923-935. PMID: 27676224
Sooriyaarachchi, S.; Chofor, R.; Risseeuw, M.D.P.; Bergfors, T.; Pouyez, J.; Dowd, C.S.; Maes, L.; Wouters, J.; Jones, T.A.; Van Calenbergh, S.; Mowbray, S.L.  Targeting an aromatic hotspot in Plasmodium falciparum 1-deoxy-D-xylulose 5-phosphate reductoisomerase withb-arylpropyl-analogues of fosmidomycin, ChemMedChem, 2016, 11(18), 2024-2036. PMID: 27487410
Chofor, R.; Sooriyaarachchi, S.; Risseeuw, M.; Bergfors, T.; Pouyez, J.; Johny, C.; Haymond, A.; Everaert, A.; Dowd, C.S.; Maes, L.; Coenye, T.; Alex, A.; Couch, R.; Jones, T.; Wouters, J.; Mowbray, S.; Van Calenbergh, S. Synthesis and bioactivity of β-substituted fosmidomycin analogues targeting 1-deoxy-D-xylulose-5-phosphate reductoisomerase, J. Med. Chem., 2015, 58(7), 2988-3001. PMID: 25781377
Haymond, A.; Johny, C.; Dowdy, T.; Schweibenz, B.; Villarroel, K.; Young, R.; San Jose, G.; Jackson, E.R.; Dowd, C.S.; Couch, R.D. Kinetic Characterization and Allosteric Inhibition of the Yersinia pestis 1-Deoxy-D-Xylulose 5-Phosphate Reductoisomerase (MEP Synthase), PLoS One, 2014, 9(8), e106243. doi: 10.1371/journal.pone.0106243. PMID: 25171339
BA, University of Virginia, 1993 
PhD, Virginia Commonwealth University, 1999